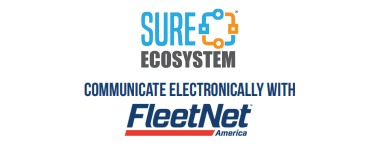 UPDATE AN EVENT WITHOUT LOG IN
Service Providers, please enter the following information to
update the status of an event you are working.
LOGIN TO MANAGE ALL OF YOUR EVENTS
Requires credentials (username/password)
To register and receive your username and password contact: getconnected@fleetnetamerica.com

sureEcosystem is an electronic platform that allows service providers a way to connect and communicate
directly with FleetNet America. Once you are connected, Dispatches can be sent, ETAs returned, statuses
updated, event photos uploaded and invoices submitted. Getting connected is an easy procedure. A quick
phone call or email to our Service Provider Network department (844-420-3495 or getconnected@fleetnetamerica.com) will start the
process. Once you are connected to FleetNet America through sureEcosystem you can begin receiving calls through
your own connected Dispatch Software Provider.